Attention all Home Owners


Would You Pay $7.00 For A Gallon Of Gas If You Could Go Across the Street and Pay Half Of That? So, Why Would You Pay Double For Your Utah Water Softener
or Water Purifier?


Put Your Money Back in Your Bank Account…




Since 1986 Guardian Soft Water and Jeff Smith have been serving the Salt Lake City and surrounding areas installing. Jeff uses nothing but the best equipment and every job is custom to fit your families needs. You just found the best Utah water softener company. Hard water purification and water softener are our business in Utah.
All For About 1/2 the Price of Our Competitors!
With this economy and the fact the almighty dollar doesn't go as far as it used to we made some changes to better service our customers.  You'll find with our drastically reduced overhead you can save a lot of money. You receive this without losing any of the quality services we offer you. Rest assured you will love the way we do business.  —Jeff Smith—
Reverse Osmosis Systems For Better Drinking Water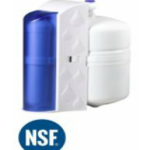 Hard Water Purification Utah at it's best. Are you are looking for a system that removes all of the impurities to the levels considered "safe" as well as clean and tasty, then consider reverse osmosis . Our system will perform to a level you will love. No more bottled water or worries about drinking tap water. Awesome for baby formula and everybody in your home.
Enjoy a few more Guardian Soft Water Testimonials
Guardian Soft Water is a "Family" Based Utah Water Softener Company
 . As a result, You Will Not Pay for the Following.


Angie's List No. 1 Pick 5 Years in a Row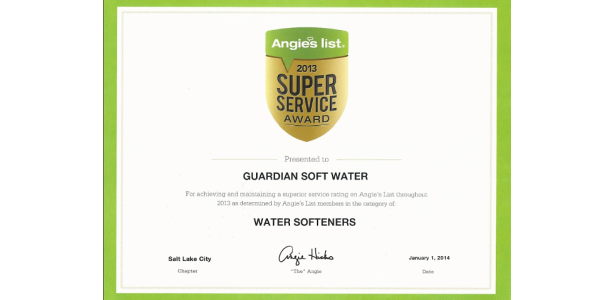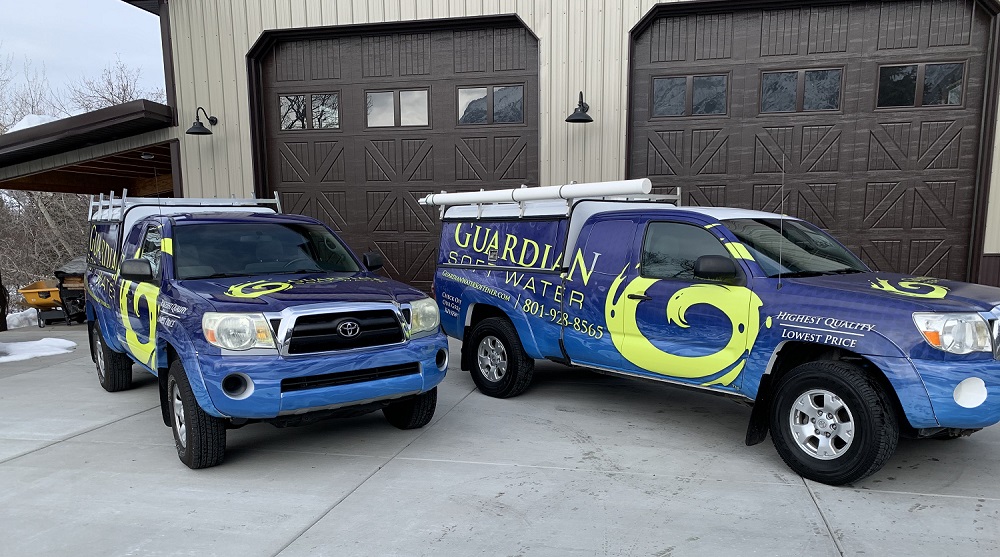 A Few More Utah Soft Water Company Reviews
Tyler and Lisa S., North Salt Lake
"We told our friends who paid over $4,000 for virtually the same system and you installed it for free. We still can't believe it and are completely happy with our system."
Tiffany and Jordan R., American Fork
"The toilet rings are gone and the dishes look like they are brand new again and the shower doors don't need me scrubbing them every week as well as my skin isn't itchy anymore. I only wished we would have had you put it in sooner as your price was much lower than the other companies were."
Will L., Kaysville
"I recently started shopping around for a new water softener to replace the one I had bought used that the original owner had bought from another company that had stopped working. I had received bids in the past from other places for new water softeners but their prices were well beyond the price I was willing to pay. However, I did not want to buy something that I would simply have to replace again in a couple of years so I was hesitant to buy another used or cheap product.
I came across Jeff while searching the KSL Classifieds and called him to see what he had to offer. I instantly felt comfortable dealing with him and was able to get the highest quality softener customized for my home available on the market for literally $1000 cheaper than the big names sell their low-end models. Jeff personally sold me the softener, tested the hardness of my water to customize the system, and installed the softener. It was refreshing not to have to pay a boss, deal with a sales rep, installer, customer service, etc. that you have to deal with the big guys. Jeff did it all! It makes it easier and saves you money on efficient water softener Utah!"
Peggy in Lindon
"You saved us over a $1000.00 dollars and found you did everything you said you'd do and installed it for us for free."
Brandon J., Travers Mountain
"This should have been installed much sooner as our appliances were caked with hard water deposits but now look so much better. We are completely happy with your system ."
Helen R., Eagle Mountain
"I cannot believe how little salt your system uses. Mine has installed 6 months ago and looks like it's good until June or July. You're price and how courteous you were to me made me feel like I am your best customer."
Jenn T., Eagle Mountain
"You know when you get a GREAT deal you just have to share it? Well, you all know how bad the water is out here. The hardness is destructive but I don't have to tell you that you can see it at the base of your facets. Over time, it also damages our pipes, dishes, etc."
I researched Utah Water Softener and water purifiers for over a year. I had company after the company comes out. They tested our water then sat us down to sell us on some $3500 to $4000 dollar unit. YUCK! Then I called Guardian Water. Jeff Smith, Owner/operator, was fantastic. He was patient, NOT pushy, laid out the facts then offered the equipment for a fraction of the cost of any other company's "final offer". I am so happy with the service, cost, and equipment. Top of the line, 60,000-grain unit, smart head (meaning it customizes to our water usage so we go through less salt) and my favorite part is the 5 stage reverse water osmosis system to purify our drinking water.
Like many of you, we had bought our water and Brita filters in the past. I have always been worried about drinking the water out here, with the number of miscarriages, and childhood cancers (my nephew included who lives in Silverlake). One can't help but wonder if the water isn't a contributing factor.
SO, my point is, give Jeff Smith with Guardian Water a call if you have even considered having soft water or purified water. He is awesome!!! His number is 801-928-8565. I have attached a flyer of his he sent me and the water report from the city of Eagle Mountain so you can see for yourself what's in our water. I just want all my friends to get a GREAT deal too. My best wished to you and yours!"
Mark F., Sandy Utah
"I'm a plumber by trade and although I specialize in another area, I found you to be more than fair. I'd refer you to anyone and understand why others chose you to do the installation."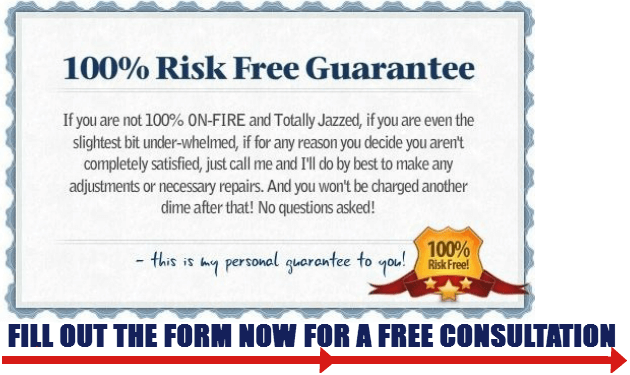 Or, Pick Up the Phone and Call Us Now!
Guardian Soft Water, a Utah Water Softener Company…
 House water purification and soft water are our business.
Jeff Smith
13571 N Grove Drive
Alpine, Utah 84004
801-928-8565
Seriously!   Only ONE thing left to do.    Fill out the FORM NOW &
 $SAVE$ Today.