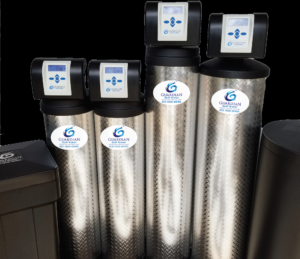 One of the most common questions I receive is from potential customers who call asking this question. "What do I really need in a water softener and how much should a person have to pay to get a good one?" What Is The Best Water Softener for Utah's Hard Water?
In January of this year, I received a call from a very nice lady in Lehi. She had almost a panic tone in her voice and I sensed her frustration. She has just signed an agreement to have a softener installed in a home for two retired people. She had gone to Costco and responded to a saleswoman asking if she would like a free soft water quote. A couple of days later the company sent out a representative. He was sharp, clean and knew his equipment very well. She told me if she didn't get this top of the line unit she would later regret her decision.
In short, she signed an agreement of over $5800.00. She slept on it or at least tried too and called in somewhat of a panic. Her question to me was almost one of panic, seeming to say in her tone of voice, "can you help me?" Do I really need to pay this much to get a good softener?
My response to her seemed to relieve her stress, at least for the moment. The company was to install it the next day and she needed to revisit the options which were never offered to her. I told her this, "would you like to save over $4000.00 and get a system that's custom-built for Utah's hard water and keep the rest for a vacation or two?" She seemed very relieved and asked if I would come over.
I went to meet with both she and her husband and within 20 minutes they made the decision to have Guardian Soft Water install a system that would do everything they needed. They wanted quality at a fair price. They got exactly what they wanted and saved over $4200.00 With their new system install they have referred many friends in the same development and have a combined savings of more than $24,000 from just 5 customers. Are they happy? Absolutely and they saved money which they will need for unknown expenses which come along with old age.
What Is The Best Water Softener for Utah's Hard Water and for all the hard water in either Lehi, Saratoga Springs, Herriman, Riverton, South Jordan, American Fork, Vineyard or any other city along the Wasatch Front? Guardian Soft Water makes a system for all of those areas at a price that is far below the competition and much higher quality with a lifetime warranty.
There is absolutely no need to overpay a company and to be oversold on a system they don't need. It's not that other systems aren't good, they are just overpriced and not by a couple of hundred dollars but often times in the thousands.
At Guardian Soft Water, we will teach you everything you need to know so the buying decision will be a better one for your home, your budget and for your peace of mind. We prefer it this way and know before we come into your home that value, quality, and your dollar matters. Spend it wisely and without any regrets. We at Guardian Soft Water would rather have happy satisfied customers who share what we do with their neighbors than for you to feel taken and oversold. So, The Best Water Softener for Utah's Hard Water is Guardian Soft Water. Water are You Waiting For? Thank you for reading this article.
Give us a call at 801-928-8565
Jeff Smith/owner