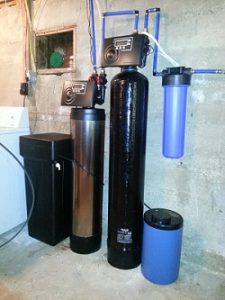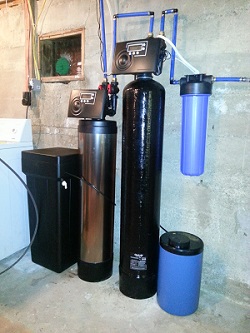 The purpose of writing this article is simply to educate those who are questioning if a water softener is worth the investment, as well as the potential benefits of owning a water softener, benefits Utah. Utah is a mineral-rich state, IE "Salt Lake" and much of the water comes from areas that are loaded with high concentrations of those minerals.
Utah has many lakes, rivers, streams, deep wells, where water is pumped and delivered to the cities which need the water. Water carries with it whatever it touches and that includes minerals like calcium, manganese, iron and anything else water comes in contact with.
The cities and municipalities are responsible for making the water palatable as well as safe to drink. Not an easy task. This does not mean those many minerals are removed because they are not.
That task or responsibility is left to the homeowner and for good reason. Remember, it's the city's responsibility to make it "PALATABLE" as well as "SAFE". In most cities chlorine is added to kill and reduce bacteria but those minerals still remain.
We also know that Chlorine isn't good for you either. But what does that mean to you as a homeowner? If the minerals are left in the water, it's not the cities job to remove those minerals and make your water nice and soft or mineral-free.
That responsibility has been left to the homeowners. So, what are the benefits of a water softener here in Utah? Remember this: If the water passes the test, it doesn't mean your water is softer because that is not the test the city is trying to pass. Is it "PALATABLE OR SAFE TO DRINK" by the standards established by the state?
Some cities have harder water because of where the water originated from. If the source has many minerals in the ground, that water will be naturally harder. While another source may have fewer minerals per gallon which means it's not as hard.
Now, from the source, how many miles of underground or even above-ground pipes must that water travel through to get to your home? Water must travel from wherever (Point A to Point B) it's the source as well as through the many miles or pipes (often over 100 miles) just so you have water for you and your family.
So, if the water in your home is harder, it came from a source where the minerals were of a higher concentration. The harder the water means it came from a source of the high mineral.
Ok, so what does this mean to you as a homeowner? And, what are the benefits of removing minerals from the water? What are the benefits of having soft water, especially here in Utah?
I've recorded customers who share their own stories of why they chose Guardian Soft Water as well as the many water softener benefits they now enjoy. It may be helpful to view www.guardianwatersoftener.com and listen to customers who love the soft water system we installed in their homes.
Here are some of those Water Softener Benefits Utah:
#1. SOFTER SKIN NO HEAVY MINERALS LEFT TO MAKE SKIN DRY AND CRACKING
#2. CLEANER CLOTHES (YOU CANNOT GET CLOTHES AS CLEAN IN HARD WATER)
#3. NEARLY SPOTLESS DISHES AND GLASSWARE
#4. SOFT WATER USES 50% FEWER LAUNDRY DETERGENTS
#5. SOFT WATER IS LIKE HAVING A LIVE-IN MAID, REQUIRES LESS OF YOUR TIME SPENT ON CLEANING UP AFTER THE MINERAL DEPOSITS
#6. SOFT WATER SYSTEMS PAY FOR ITSELF
#7. SOFT WATER CLEANS EVERYTHING BETTER
#8. SOFT WATER SAVES YOUR PIPES IN YOUR HOME PRESERVING YOUR BIGGEST INVESTMENT
#9. SAVES TUBS, SHOWERS, TOILETS FROM HARD WATER BUILD-UP
#10. SOFT WATER PROVIDES ENJOYABLE BUBBLES WHEN YOU BATHE
#11. SOFT WATER PROTECTS YOUR HOT WATER HEATER, DISHWASHER, AND ALL OTHER APPLIANCES AND FAUCETS
#12. SOFT WATER PROTECTS YOUR CLOTHING DURING THE WASH CYCLE
The list goes on and on but the testimonials of why people love soft water, especially Guardian Soft Water systems which offer the greatest value for your hard-earned money.
Ok, you've read this article but which water softener is best for you. Water Softener in Utah is best for your home and your family and what is the best value when it comes to purchasing a softener? Since all water isn't the same, all softeners are not the same either.
Give Guardian Soft Water a call or visit our website to see if this might interest you. Go to www.guardianwatersoftener.com or call Jeff at 801 928 8565. Where we will show you which water softener is best for you in quality, price and overall value for you and your family.
We appreciate your business,
Respectfully,
Jeff Smith/owner Guardian Soft Water
Water Softener Benefits Utah