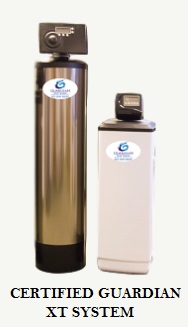 Since we live in a state with hard water, making a decision when it comes to softening your hard water shouldn't be as hard as our water.  Let's make it simple in selecting a Salt Lake City Water Softening System company that does everything you are looking for at a price that is more than half the cost of the competition.
OK, so you're skeptical.  So were many of the customers who looked around, had other companies come out and give them a bid.   Not being satisfied with price and value each customer called me at 801-928-8565.   The following testimonials were voluntarily created, sent to Guardian Soft Water after they found a better value, better deal or whatever you want to call it.  They got what they wanted, saved money in the process and sent in their comments as well as spent time doing a live video clip of their overall experience.  Isn't that better than a sales pitch or sales hype?
Salt Lake City Water Softening System Testimonials
If you are looking for better prices, better service and better value then now is the time to discover for yourself how good it feels to be "included in the design, in the price and selection of what you really need".   After all, isn't that why you came here is to save money, get everything you want and save hundreds or even thousands in the process?
I just had Jeff install a new water softener for me.  I was very impressed with his knowledge, promptness, professionalism and kindness throughout the process.  Following the installation I ran into a small problem I thought may be a result of the install but was actually unrelated and regardless, he traveled 50 miles to my home to check the situation out for me and on a SATURDAY just to be sure.  Not only is his water softener much better quality and come with a phenomenal warranty but was also $1,000 less than any other one I checked out. He went above and beyond in all aspects!  I wholeheartedly give two thumbs up and would recommend using Jeff and Guardian Water Softener to whoever is in need of a water softener!
Doris Smith, Coalville Utah,  August 2012
Absolutely the most outstanding customer service that I have ever received.  Jeff, the owner, GETS IT when it comes to customer service.  From start to finish this was the best consumer experience that I have ever experienced.  Further, the soft water system is fantastic…we could feel the difference immediately.  My wife has been complaining for years about Utah's terrible hard water.  So guys, score some points with your wives and get with the program. I had called several of the "big name" soft water suppliers in the Utah Valley area and was not impressed with any of them…as far as "wanting" my business.  Jeff was exactly opposite.  I could tell that he appreciated my business and Jeff is genuinely a "nice guy".
We saved an enormous amount on the system that we got and Jeff installed it free within an hour.  The system is virtually maintenance-free and really is amazing. Our experience with Jeff, and his company Guardian is a refreshing reminder that there are still folks out there that truly understand the term "customer service"…thanks again…
Mike & Donna Wood, Orem Utah,  June 2012
This has been by far the BEST investment we have made for our home!  Jeff was so friendly, genuine and honest which made it so easy to invite him into our home. I am so pleased with the unit and the difference it has made in our skin and,laundry and dishes. If you go with anyone else your just crazy!!!!
By far your happiest customers.
Rob and Lynzie Christensen, April 2012
Dear Jeff,
Just a quick note to say thank you for ALL of your time to educate us on water softeners. As you know, we researched many units and came back to you with multiple questions, all of which you answered and clearly proved that your system was superior to the others we were considering. We truly appreciate the extra attention that you gave to us by making calls to the competition to compare and clarify for us. The process with you was truly an educational experience, versus a sales pitch, which was so refreshing. We can honestly say that we now KNOW that we have purchased the best product on the market and paid a MORE than fair price for it. Our skin and hair thank you, not to mention our appliances and everything else!
Sincerely,
Scott and Shannon Dee,  APRIL 2012
"We told our friends who paid over $4,900. for virtually the same system and you installed it for free. We still can't believe it and are completely happy with our system."
TYLER AND LISA…..North Salt Lake
I recently started shopping around for a new water softener to replace the one I had bought used that the original owner had bought from Superior Water that had stopped working.  I had received bids in the past from places like Superior for new softeners but their prices were well beyond the price I was willing to pay.  However, I did not want to buy something that I would simply have to replace again in a couple of years so I was hesitant to buy another used or cheap product.
I came across Jeff while searching the KSL Classifieds and called him to see what he had to offer.  I instantly felt comfortable dealing with him and was able to get the highest quality softener customized for my home available on the market for literally $1000 cheaper than the big names sell their low-end models.  Jeff personally sold me the softener, tested the hardness of my water to customize the system, and installed the softener.  It was refreshing not to have to pay a boss, deal with a sales rep, installer, customer service, etc. that you have to deal with the big guys.  Jeff did it all!  It makes it easier and saves you money!
Will L.    Kaysville, Utah,  April 2011
"You saved us over a $1000.00 dollars and found you did everything you said you'd do and installed it for us for free."
Peggy in Lindon, Utah
" The toilet rings are gone and the dishes look like they are brand new again and the shower doors don't need me scrubbing them every week as well as my skin isn't itchy anymore. I only wished we would have had you put it in sooner as your price was much lower than what the other companies were."
Tiffany and Jordan R……A. F.
"I cannot believe how little salt your system uses. Mine has installed 6 months ago and looks like its good until June or July. You're price and how courteous you were to me made me feel like I am your best customer."
Helen R. Eagle Mountain, Utah
"This should have been installed much sooner as our appliances were caked with hard water deposits but now look so much better and your system we are completely happy with."
Brandon J. Travers Mountain
You know when you get a GREAT deal you just have to share it? Well, you all know how bad the water is out here. The hardness is destructive but I don't have to tell you that you can see it at the base of your facets. Over time, it also damages our pipes, dishes, etc.
I researched soft water and water purifiers for over a year. I had company after the company comes out. They tested our water then sat us down to sell us on some $3500 to $4000 dollar unit. YUCK! Then I called Guardian Water. Jeff Smith, Owner/operator, was fantastic. He was patient, NOT pushy, laid out the facts then offered the equipment for a fraction of the cost of any other company's "final offer".
I am so happy with the service, cost, and equipment. Top of the line, 60,000-grain unit, smart head (meaning it customizes to our water usage so we go through less salt) and my favorite part is the 5 stage reverse water osmosis system to purify our drinking water.
Like many of you, we had bought our water and Brita filters in the past. I have always been worried about drinking the water out here, with the number of miscarriages, and childhood cancers (my nephew included who lives in Silverlake). One can't help but wonder if the water isn't a contributing factor.
SO, my point is, give Jeff Smith with Guardian Water a call if you have even considered having soft water or purified water. He is awesome!!! His number is 801-928-8565. I have attached a flyer of his he sent me and the water report from the city of Eagle Mountain so you can see for yourself what's in our water.  I just want all my friends to get a GREAT deal too. My best wished to you and yours!
Jenn T.   February 2011   Eagle Mountain Utah
Are you tired of not getting a straight answer about pricing from the big companies? Do they make it sound like it is a big secret that can only be revealed after you make an appointment?  Then stop wasting your valuable time and simplify your life by calling Jeff.  He wants your business and will make it easy for you to get the best product at a fraction of the cost.  We are very pleased with his installation work and we are enjoying the benefits of soft water in the house.
Heidi, North Salt Lake.   March 2011
"I'm a plumber by trade and although I specialize in another area, I found you to be more than fair. I'd refer you to anyone and understand why others chose you to install their softeners."
Mark F. Sandy Utah
"After buying my house I quickly realized that the water was leaving film and stains and our skin was itchy and irritated.  So a water softener wasn't a want but a need.   I searched and compared for months and after all that I found the best with Jeff.   He goes out of his way to make sure he is accommodating and educates you and is very honest about the product.  You don't just walk away with a softener but a lifetime friend.  Best decision I've ever made.   Add that Jeff, it's true!
Margaret B.  North Salt Lake     Feb. 2011
Comment:
I must say that the story sounds exactly like my situation.  Everything is true about the story, and about the big water softener company that I "thought" would help me when their water softener gave out after just 5 years of use. Oh, how I was mistaken.  The big company which I thought was "Superior" turned out to very call us and was only concerned about selling me their most inexpensive replacement water softener for $2500.
They offered me a couple of hundred dollars worth of trade for the top of the line stainless steel unit they had installed in the house just 5 years earlier.  I was not going to become involved with this "superior" company any longer.  I was able to talk to Jeff Smith from Guardian water softeners, he was upfront from the beginning conversation.
Jeff explained to me the process of making and selling a Salt Lake City water softening system and that most came from the same source using similar materials.  So why pay twice to three times more for something that is almost identical for what Jeff Smith can sell and install for you?
Jeff had the failed water softener removed and a new whole-house system installed in my home for one-fourth the price of the cost of the original unit.  It has been one month now, and the system is working great, my water is softer than ever, and the system regeneration is the quitter as well.  I cannot say enough about Jeff and his company Guardian.  He really offered me what my family needed and was not out to gouge me in the end.  Thanks Jeff for the great service and the great price.  I have recommended Guardian water softeners to all my friends, and I hope that when they need a softener, they call Jeff.
Looking for the best Salt Lake City Water Softening System?
Jeff Smith
13571 N Grove Drive
Alpine, Utah 84004  
801-928-8565